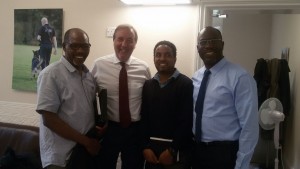 NAC met with the Police and Crime Commissioner of Nottingham and Nottinghamshire Paddy Tipping, as part of our networking agenda and in order to develop a working relationship with the Police which could be mutually beneficial. We discussed problems faced by the African community in Nottingham with regards to the police, such as stop and search and mistrust or fear of the Police. We came up with a strategy for working together, involving outreach events and training for Nottingham and Nottinghamshire African community organisations on Police related matters.
This lead to us meeting with Joanne Ratchford the Positive Action coordinator for the Nottingham and Nottinghamshire police, who came to talk to us about issues of representation and the need for recruit people from minority communities to the force. She illustrated to us the process of recruitment and we then discussed the complicated relationship between Refugees and Asylum seekers and the Police. We agreed that it would be beneficial for the police force to be more diverse, with more female, LGBT and BME officers and put her in contact with John Aghoghobe, the careers adviser at Belong.
Overall, we feel that connecting with and developing a relationship with the Police is positive step towards community cohesion and we are optimistic for the future.